So how should you spend a few days or even two months in the historic Lanna capital city? There is an abundance of things to do, so don't think you're likely to get bored!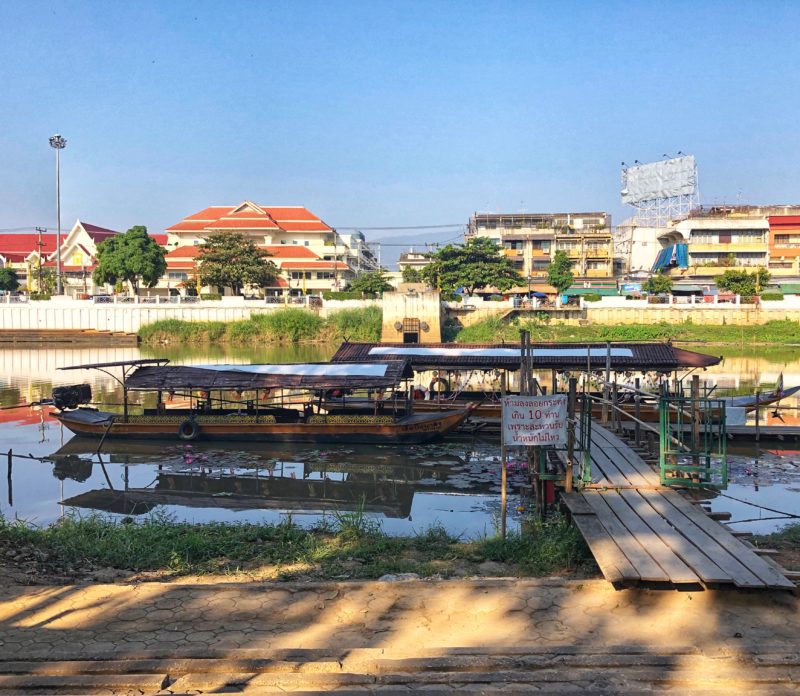 Eat lots. My top local eats while in Chiang Mai were khao soi (the northern Thai noodle curry soup) pretty much anywhere but especially Mae Sai, vegetable skewers covered in a spicy marinade from street stands, and spicy curry at Anchan Vegetarian. And oh all the fruit. I so miss getting fresh watermelon shakes for only $1 or huge chunks of sliced mango.
But don't think that you could only get Thai food, we became regulars at Jagajee, a tapas bar in Nimman that made the most addictive cashew red pepper dip. We often had breakfast at The Larder, enjoying open faced stacked sandwiches and parmesan eggs. Salsa Kitchen was the answer to any Mexican needs and By Hand Pizza in the Old City solved any pizza cravings. Needless to say, you can eat real well during your time in Chiang Mai.
Hike the Monk's Trail up to Wat Pha Lat and Doi Suthep temples. This is a hard, steep hike, especially in the high temps of Chiang Mai. But I love the views and the serenity of Wat Pha Lat so much, I have done it 3 times in my two months. This blog post does a great job detailing out the logistics. Doi Suthep overlooking the city is ornately covered in gold and is featured on most photos of this area.
See live music at Malt or Think Park outdoor bars. The live music scene in Chiang Mai is surprisingly fantastic, with really talented musicians generally doing covers of Western pop music. It's one of my favorite ways to spend an evening.
Explore the city and beautiful temples along the way. This city is filled with small winding streets, funky street art and amazing temples especially Wat Chedi Luang and Wat Suan Dok (which is a bit off the tourist track but definitely worth a visit!).
Day trip or overnight to visit elephants! While Thailand still has a ways to go in animal welfare and it's certainly no Kenyan national park, the treatment of elephants has improved dramatically. It's now rare to find elephant riding and most camps offer more ethical activities where you can still interact with the animals, like bathing them or walking with them through a jungle. Some places are of course still better than others but I think it's possible to still enjoy and experience these amazing creatures.
I went to Elephant Land twice, once as a day trip and another time as an overnight. The accommodations are rustic but it was a highlight of my time in Thailand for sure, drinking and singing songs with the locals, seeing the beautiful mountains at sunrise and spending more time with the elephants. They treat the animals well, letting them roam and explore the jungle at night, and have a good program to offer tourists.
Walk up the Sticky Waterfall. Just about 80 minutes north Chiang Mai is the funkiest waterfall, formally known as Bua Tong Waterfall. The mineral deposits on the rocks make them truly grippy, rather than slimy or slippery, allowing you to walk up the waterfall with ease. It's a fun, unique experience!
Enjoy the cheap massages. Thailand has multiple massage studios on every block, offering an hour foot or Thai massage for just $10. However that does mean some are worse than others, and you never really know what you're going to get, atmosphere or quality-wise, even if you go to the same place. Vintage Spa is my favorite stop in Nimman, with a comfortable space and consistently high quality massages.
Go on a bike ride down from the mountains above Chiang Mai. I was a bit of a baby biking on the steep downhills, especially on the road with cars, but seeing the Doi Pui Hmong Village and colorful gardens, Doi Suthep temple and views above the city made up for my nerves.
Take a cooking class. I love the experience of making typical dishes, learning more about Thai ingredients like galangal root and butterfly pea flowers and of course the eating. I convinced some friends to take a vegetarian class at May Kaidee which was a great time.
Monk Chat. At Wat Chedi Luang, the largest temple in the old city, tourists can have a casual conversation/Q&A session with Buddhist monks and novices. They use it as a way to both practice their English and share more about their religion and lives. I loved chatting with the teenagers training to be monks, how their days are spent and about their favorite temples in the city. I even got some great meditation tips.